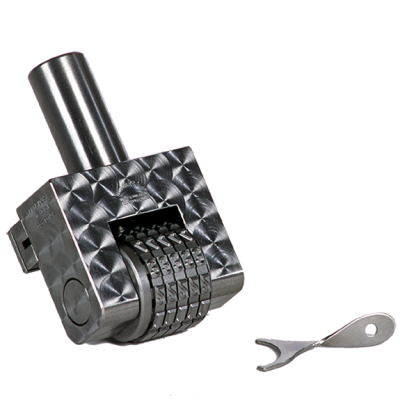 Metal Marking Equipment
Numberall Stamp & Tool is a manufacturer of metal marking equipment for industry. We have been designing, manufacturing, and servicing a complete line of equipment since 1930. Our products utilize several marking methods including metal marking and hot stamping. These methods can be used for stamping serial numbers, date codes, product codes, and other permanent identification needs.
New to Metal Marking?
If you are new to metal marking and need assistance in determining the correct marking equipment for your needs, try using the Metal Marking Product Chooser or Metal Marking Product Matrix. The Product Chooser asks you a few quick questions to determine your marking needs, then recommends a product based on your answers. The Product Matrix displays a summarized comparison chart of all our products. For further assistance, please call one of our qualified sales representatives at 1-800-685-3072.
Numberall has been a recurring attendee of EASTEC, the leading Northeast manufacturing trade show, since 1998. This past May, we were eager to attend the three-day event in West Springfield, Massachusetts.
read more
For nearly 90 years, Numberall has provided custom stamping tools for clients around the globe. We attribute this longevity to our high-quality marking products and also to the hard work and commitment of our employees — some of whom have been working at Numberall for over three decades. Topping the list is John French, who is going on almost five full decades of employment with Numberall.
read more