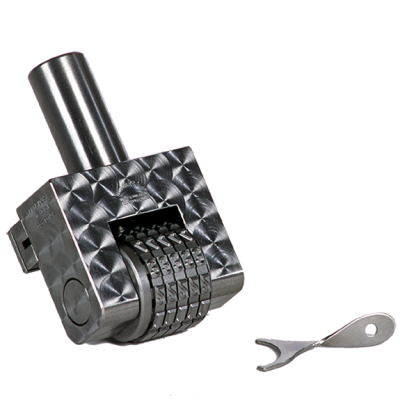 Metal Marking Equipment
Numberall Stamp & Tool is a manufacturer of metal marking equipment for industry. We have been designing, manufacturing, and servicing a complete line of equipment since 1930. Our products utilize several marking methods including metal marking and hot stamping. These methods can be used for stamping serial numbers, date codes, product codes, and other permanent identification needs.
New to Metal Marking?
If you are new to metal marking and need assistance in determining the correct marking equipment for your needs, try using the Metal Marking Product Chooser or Metal Marking Product Matrix. The Product Chooser asks you a few quick questions to determine your marking needs, then recommends a product based on your answers. The Product Matrix displays a summarized comparison chart of all our products. For further assistance, please call one of our qualified sales representatives at 1-800-685-3072.
Here at Numberall, we know that marking devices can be costly for small and large businesses alike. At times, it may seem like a more cost-effective strategy to purchase low priced tools that will "get the job done." However, you might be surprised to find that even businesses with low production demand end up saving money in the long run when they use Numberall equipment, especially with our line of presses.
read more
At Numberall, we value our customers and have a long history of manufacturing quality and durable marking products. This is one of the many reasons why we enjoy attending EASTEC in West Springfield, Massachusetts. By participating in EASTEC, we have the opportunity to personally meet with many of our customers and learn more about their needs.
read more