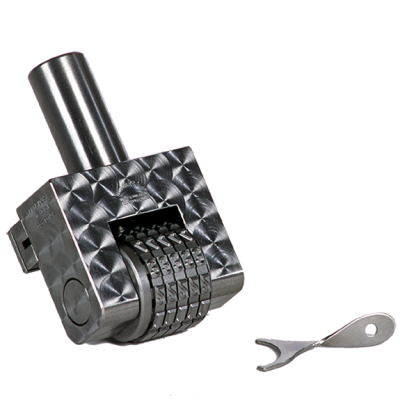 Metal Marking Equipment
Numberall Stamp & Tool is a manufacturer of metal marking equipment for industry. We have been designing, manufacturing, and servicing a complete line of equipment since 1930. Our products utilize several marking methods including metal marking and hot stamping. These methods can be used for stamping serial numbers, date codes, product codes, and other permanent identification needs.
Contact Us
New to Metal Marking?
If you are new to metal marking and need assistance in determining the correct marking equipment for your needs, try using the Metal Marking Product Chooser or Metal Marking Product Matrix. The Product Chooser asks you a few quick questions to determine your marking needs, then recommends a product based on your answers. The Product Matrix displays a summarized comparison chart of all our products. For further assistance, please call one of our qualified sales representatives at 1-800-685-3072.
Request Our Product Catalog
Your choice of a digital or print copy of our complete catalog with pricing!
Order Now
From the Numberall Blog:
For a company that has been around for nearly 90 years, we attribute our longevity not only to the high-quality marking products we manufacture, but also to our devoted employees, many of whom have been with us for over a decade. We want to introduce you to these...
read more
Rapid, accurate and consecutive marking requires a machine that works precisely and efficiently, and requires minimal effort from the operator. Our Model 50P was developed over 80 years ago and is ideal for rapid, accurate and consecutive marking required by a variety...
read more