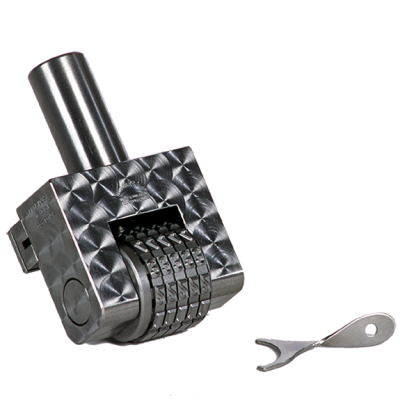 Metal Marking Equipment
Numberall Stamp & Tool is a manufacturer of metal marking equipment for industry. We have been designing, manufacturing, and servicing a complete line of equipment since 1930. Our products utilize several marking methods including metal marking and hot stamping. These methods can be used for stamping serial numbers, date codes, product codes, and other permanent identification needs.
New to Metal Marking?
If you are new to metal marking and need assistance in determining the correct marking equipment for your needs, try using the Metal Marking Product Chooser or Metal Marking Product Matrix. The Product Chooser asks you a few quick questions to determine your marking needs, then recommends a product based on your answers. The Product Matrix displays a summarized comparison chart of all our products. For further assistance, please call one of our qualified sales representatives at 1-800-685-3072.
Numberall has many choices for the Model 23P Type Holder. Not just character size and capacity, but we can modify the Model 23P for just about any type of marking. Pictured is a Model 223P-2 2 Line Type Holder, equipped for hot stamping, insulated mounting plate and...
read more
Numberall manufacturers identification equipment for all industries. Here's a custom setup for marking coins. Using the Model 301 hand operated cylindrical marking press to mark around the edge of the coin. We used our standard adjustable holding fixture and added...
read more